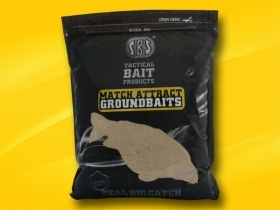 Match Attract Groundbait
Flavouring:
Pack:
Unit Price:
2,90
€ / 1 kg
Add to the recipe calculator
This is the best priced ground bait mix from SBS, formulated for match, feeder and pole anglers while being an effective choice for boilie fishing as well. The six different flavours, loaded with feed stimulating attractants, offer an excellent choice for all seasons. Use it with CSL Ground bait liquid or Spicy Stim Match or with Spicy Robin Red liquid attractants. Information regarding mixing proportions can be found in the description of the listed natural extracts. It can be kneaded into the desired consistency by adding water and the chosen attractants.
Pack: 1 kg
Flavouring:
Fish 100

Funky Chicken

Nut

Red Fish

Stim

Sweet Fruit
Legend: Spring - Autumn =
Summer =
All seasons =
Made by:
© 2013. SBS Tactical baits